Finding the Ideal Process for Pharmaceutical Translations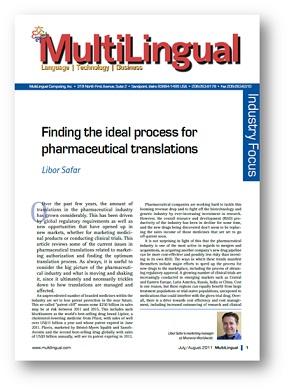 Over the past few years, the amount of translation in the global pharmaceutical industry has grown considerably. Yet traditionally, it is fair to say, the industry's main focus has been on ensuring the utmost quality and accuracy of translated materials – not overall efficiency and transparency of processes.

Download this article for insights on key challenges in pharmaceutical translations and learn how to optimize your translation processes for maximum quality and cost-efficiency.
Read this article to learn about:
Translations for marketing authorization governed by the European Medicines Agency (EMA)
Translations required during clinical trials
Types of translation processes developed and adopted in the industry
Different methods or levels of Quality Assurance (QA)
QA process for Patient Reported Outcomes (PROs)
The pros and cons of back translations
PRO measures and the linguistic validation step of cognitive debriefing (pilot testing)
To read the article, please complete this simple form.